AGI Studio for Mac 1.3.0 :: Adventure Game Interpreter IDE Download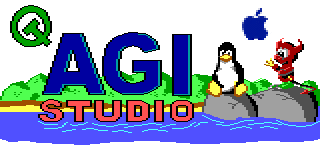 AGI (Adventure Game Interpreter) was the adventure game engine used by Sierra On-Line™ to create some of their early games from the 1980s such as the early King's Quest and Space Quest games. AGI Studio, a Mac port of QT AGI Studio, is a program that allows one to view, create, and edit AGI games.
This page details the work on the Macintosh port of QT AGI Studio. The original project page is located at http://agistudio.sourceforge.net/.
AGI Studio is covered by the GNU General Public License (GPL).
References + Links