EdenMath :: Version History
Updated application icon with a Yosemite style
Improved the accuracy and calculation of factorials
Fixed a crash when calculating large figures (i.e. 100!)
Code clean up and improvements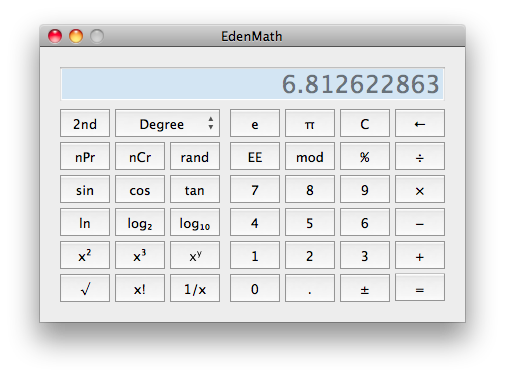 Universal Binary - works natively on PowerPC and Intel-based Macs
Massive interface update
Updated application icon
Removed the (skimpy) Help files
Changed the factorial button from n! to x!
Added log2 and 2x functionality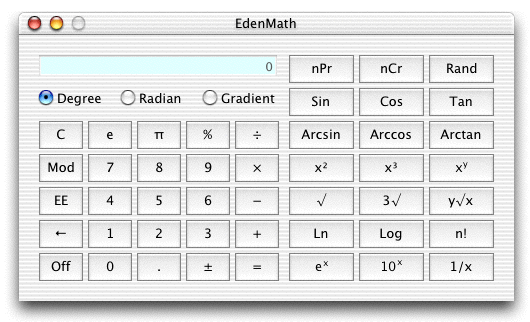 Support for non-integer factorials
Constants menu
New application icon
Updated tutorial
Available under GPL
Trimmed down source code
Minor modifications to the interface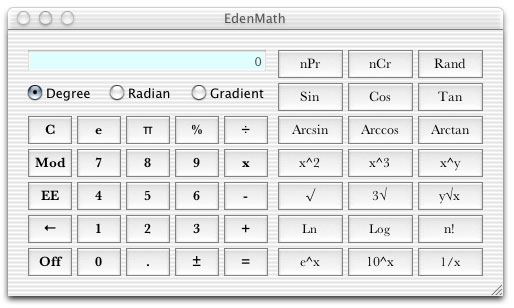 New interface design & icon
Updated tutorial.
Arcsine, Arccosine, and Arctangent now work properly. The logic behind them for previous versions of EdenMath was backwards, so none of these worked correctly except when using radians.
3.0% will now show up correctly as 0.03. It showed up as 0.0 before.
Increased the precision for the conversion to gradients so answers using gradients will be more accurate.
Before, 0! would crash the program. It now correctly returns the answer of 1.
Annoying precision bug which evaluated some numbers such as 65.1 to 65.0999999999 has been corrected.
Entire project (including nib files and source code) has been included, instead of just the source code.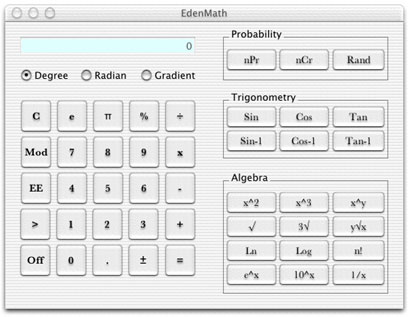 Switched the multiplication mnemonic from x to *.
Entire project (including nib files and source code) has been included, instead of just the source code.
Added additional material to the About Box.
Changed the Probability, Trigonometry and Algebra buttons to rounded bevel buttons
Added the ^ and ! mnemonics to the x^y and n! buttons, respectively